Okay so this isn't entirely new for me..
and for many of you you might have had a Smash book for a long time or maybe many smash books..
Last summer I bought one as a Summer journal for the family,
I felt it was too big to bring along and to big to only have a vacation in it since as soon as I was back at work I stopped (became a too busy time for me)
So I have a half empty pink one lying around (sorry no peeking as I promise it's nothing to show..)
So Now I'm trying again..
This one was ordered with my Studio Calico kit and will be here in a couple of weeks..
I will use it for journaling this and that's
Favourites , happenings etc.. and then I will see if we will be better friends than my last one..
For my Summer vacation I think I will bring this one..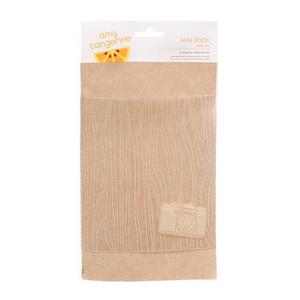 Amy Tangerine Daybook as I think this will be a better size to bring..
As for the cutter I asked your opinion about earlier
I bought this one and we're very good friends..
A Carl cutter..
And I ended up buying the
and I like it very much! I like the X-press card-stock too as I got to try those too, so in the future I will be buying either of these...
That's it for my updates , I have a Sugar Nellie post for tomorrow.. and then it's back to the couch for me now to get some rest before the girls come home.. My head is spinning around but it gets too boring lying on the couch all day *blushing*